This summer may look quite a bit different than originally planned, but that doesn't mean we can't get out to explore! With many hotels re-opening this month and next, domestic travel remains a great option for a little break from home this summer. Starting on the east coast, below are some ideas for locations (and hotels!) conveniently located to hubs on the East Coast – perfect for a short hop flight or a road trip!
1 – RHODE ISLAND – Given it's size it's easy to overlook Rhode Island, but it's a perfect New England getaway for the summer. If you're looking for a livelier atmosphere, I'd suggest Newport – a quaint town with cute local shops, delicious seafood restaurants and the iconic Cliff Walk. Among the fabulous properties in Newport, is the Chanler at Cliff Walk, The Vanderbilt (part of Auberge Resorts) and Gurney's Newport Resort & Marina. If you're looking for a more low key vibe, then I'd suggest heading to the southern shore of Rhode Island, where you'll find three sister properties, each with easy beach access, boutique accommodations and endless New England charm: Watch Hill Inn, Ocean House, and Weekapaug Inn. Watch Hill Inn is right on the water and boasts just 21 historic rooms. Ocean House & Weekapaug Inn are both Relais & Chateaux properties so you know they have incredible cuisine along with a fresh & luxurious coastal design. These latter two also have access to several cottages which offer extra privacy for larger groups or multi-generation families looking to getaway while still social distancing.
2 – VERMONT – Vermont is one of my top favorite states in the whole country. I grew up visiting family in the quaint town of Woodstock, developed by the Rockefeller's. I love the peaceful white winters, but the green summers are equally as lovely. There is a ton of space and lots to do – from hiking trails to swimming in the lakes, canoeing, kayaking, fishing, etc. The most iconic address in Woodstock is the Woodstock Inn, which I've detailed previously on this blog. For a more remote hideaway, look no further than Twin Farms, a Relais & Chateaux property in nearby Barnard, VT. Aside from a handful of rooms in the main house, the accommodations are largely private cottages spread out among the sprawling property. Meals are all inclusive and you'll find plenty of activities on site. Plus, aside from internet in the homes, you won't find a good cell signal within 10 miles of the place… perfect for those needing a true off the grid escape. Check out more details on Twin Farms here.
3 – MASSACHUSETTS – Aside from the Hamptons, no place in my opinion evokes that laid back summer vibe more so than Cape Cod or Martha's Vineyard. From the historic homes, to the picturesque beaches, summer here is postcard perfect. In both destinations, home rentals are a great option, but there are some wonderful hotels as well. The Chatham Inn is also a Relais & Chateaux property (are you sensing a theme here?) that is family owned and has just 18 rooms. Recently remodeled, the property is open year round (unusual for the Cape), but summer is its time to shine with plenty of activities and great outdoor dining options. And over on the vineyard, check out the Harbor View Hotel – new to Virtuoso, this family-owned property dates to the late 1800s. It was also recently beautifully refurbished to its former glory and ready for guests!
4 – LONG ISLAND – Long Island is where I grew up and what I consider to be home, so it'll always have a special place in my heart. If you're not from NY, chances are you haven't spent much time on Long Island, but it's absolutely gorgeous and just 1-2 hours from the city, it often feels a world apart. At the very tip of the island, you'll find Montauk with its iconic lighthouse and plentiful nightlife. Chances are you've heard of the original Gurney's, which is famous there and renowned for its summer beach & pool parties. Over the past year or so, this property also underwent an extensive renovation, and opened up a sister hotel, Gurney's Star Island Resort & Marina. A little further west from Montauk, you'll get into the Hamptons where home rentals reign supreme. But don't overlook Topping Rose House in Bridgehampton. Part of Small Luxury Hotels, this renovated 19th century mansion is the perfect base for your Hamptons stay. If you're in the mood for a more wellness focused escape, check out Shou Sugi Ban House – a brand new boutique wellness resort in Watermill with 3+ night immersive wellness experiences. And for a more relaxed vibe, you might head to the rocky north shore of the island, where you can stay at Sound View Greenport. Formerly a roadside motel, the property was recently renovated into a year-round resort with an eye for design. Many people don't realize that Long Island boasts a booming wine industry and the North Fork is the hub of it all.
5 – UPSTATE NY – Upstate NY is vast and there are many remote areas you can visit. In the lake district of the Adirondacks, you'll find the former vacation home of the Rockefeller's, The Point. Known for its nod to the past with formal evenings (even black tie on some nights!), this hideout is about as private as it gets. For a more family friendly option, head over to Lake Placid Lodge where you'll find plenty of lake-side activities to enjoy for the whole crew. And in the Catskills, you might check out Troutbeck in Amenia. A member of Design hotels, this property feels like the perfect upstate compliment to Brooklyn.
6 – MARYLAND – Maryland is so much more than just Baltimore! And for those that haven't ventured past the Inner Harbor, you might consider heading over to Annapolis or St. Michael's. The latter is home to the Inn at Perry Cabin. Privately owned and a member of Preferred Hotels & Resorts, this colonial era property has 78 rooms, 7 boats (great for sailors!) and an on-site 18-hole golf course.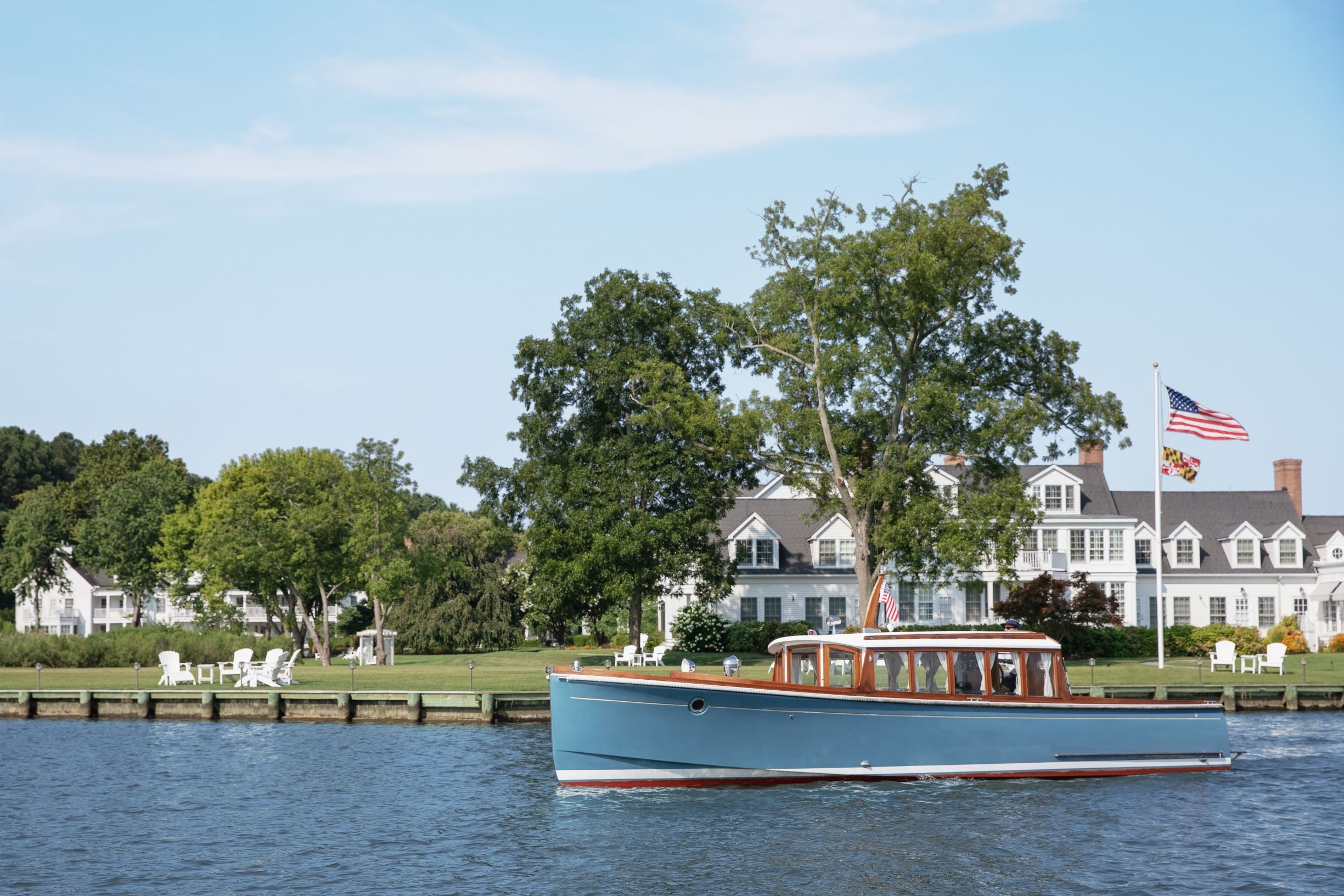 7 – CAROLINA COAST – Heading down south, the Carolina Coast is another wonderful option for the summertime. The beaches off of North Carolina in the Outer Banks are miles long and absolutely pristine. Plus you'll find tons of fresh seafood and local flavor. I love The Sanderling in the OBX hub of Duck. Directly on the beach, this large resort has on-site dining, activities, multiple pools and a great spa. It caters to family and couples alike, with designated areas/pools of the hotel for each demographic. Down in South Carolina, you can enjoy the fantastic lowcountry cuisine and culture in Charleston, or head outside the city to the private Kiawah Island for a stay at grand dame hotel, The Sanctuary at Kiawah Island Golf Resort. The Sanctuary also manages dozens of homes around the island for those looking for a larger and more private space to stay.
8 – SOUTHERN MOUNTAINS – The mountains in the southeastern US are equally as lovely as the Northeast, albeit a bit hotter in the summertime. In Virginia's Blue Ridge Mountains, you'll love Primland, a Virtuoso property with plenty of activities (from hiking to hunting to biking) as well as several private home/cabin accommodation options. Just over the border in North Carolina, you could venture through the quaint towns of Boone & Valle Cruces, or head a little further West to Asheville, home of the Biltmore Estate. If you're a National Park junkie, you might consider a few days in the Great Smoky Mountains National Park – interestingly, the most visited national park in the United States. You'll have the option to stay either on the North Carolina or Tennessee side of the park, although I'm partial to the latter because just about 45 minutes from the park entrance you'll find the iconic Blackberry Farm and it's new sister wellness retreat, Blackberry Mountain. If you just want to get away and truly spoil yourself, you'll never want to leave!!